Lawyers
Catalina Marisio Beretta
Associate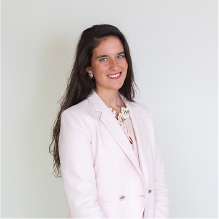 LANGUAGES
Spanish, English and French
SECRETARY
Margarita Quintana L.
Tel. (56 2) 2499 5900
mquintana@urrutia.cl
PRACTICE
Civil Law; Commercial Law and Corporate Law; Environmental Law; Natural Resources; Regulatory Law.
ADMITTED TO THE BAR
2013, Santiago, Chile.
EDUCATION
Lawyer, Law School, Pontificia Universidad Católica de Chile.
WORK EXPERIENCE
Catalina joined the area of environmental and regulatory law of Urrutia & Cía. in 2013, where she focused in the processing of the environmental permits that are necessary for the development of the most diverse projects with environmental implications. Prior to joining our office, she interned in Cariola Diez Perez-Cotapos & Cía.
Her recent practice has focused mainly in the corporate area, advising domestic and foreign clients in matters of mergers and acquisitions; foreign investment and restructuring. Her experience in this area covers the daily counseling of clients in the various stages of development of their projects and commercial contracts, specifically including distribution contracts. She also advises companies and clients on the procedures contained in the new Reorganization and Liquidation of Companies and Individuals Law.